Spas and Hammams in Morocco
Morocco Expedition offers Spas and Hammams in Morocco
Morocco is a renowned North African tourist destination famed for its magnificent architecture, sense of history, Islamic culture, delectable cuisine, colorful souks, dry deserts, and vast lengths of coastline with golden sandy beaches along both the Atlantic and Mediterranean Seas.
Morocco is also an excellent choice for those looking for blissful relaxation in an exquisite spa or a real hammam experience.
Here is a list of our top picks for Moroccan Spas and Hammams.
What exactly is a Hammam?
Hammams are traditional bath houses and steam chambers that are a frequent part of many residents' daily lives.
Moroccan hammam traditions date back hundreds of years, with people attending hammams for a thorough cleaning as well as social interaction.
Scrubbing oneself from head to toe in a steam room with black soap and an exfoliating glove to remove all filth and grime and leave your skin feeling soft and silky is a classic experience.
Men and women have distinct sections or admittance times at hammams, while some high-end hotels have begun to provide treatments for couples, as well as private experiences if you don't feel comfortable becoming practically nude in a room full of strangers.
Morocco is likely not to disappoint, whether you're searching for a public hammam frequented by locals, a luxury hammam inside a tourist-oriented resort, hotel, or Moroccan spa, or a western-style spa with an extensive menu of treatments and procedures.
Here are some of the top spas and traditional hamams in Morocco, organized by region:
Marrakech's Best Hammams and Spas
A tourist attraction and one of the country's royal towns, a trip in Marrakech may include some pampering as well as sightseeing and excursions.
Dar El Bacha Hammam
If you want a taste of a classic hammam experience, this is a must-see in Marrakech. It is built in what was originally the public bathhouse and is popular with both residents and visitors.
As with any public hammam, you should bring a few things with you, including soap, shampoo, exfoliating gloves, a hair brush, plastic flip flops, a towel, and clean underwear (you will bathe in your underwear, so you need a clean and dry set for afterwards).
There is a common changing area where you should remove your clothes and leave your luggage with an attendant.
You'll next enter the steam room, where you'll be able to take buckets of water to your preferred position to rest in the heat as your pores open before cleansing yourself.
If you don't have a companion with you to scrub your back, you may ask another bather to do it in exchange, or you can provide a modest tip to an attendant to do it for you.
If you're feeling lazy, you may even hire an attendant to clean your whole body! It's a lovely public hammam, with a domed ceiling, elegant doors, and sweeping arches.
La Mamounia Hammam
Hotel La Mamounia in Marrakech, Morocco. Alan Keohane's www.still-images.net photograph for La Mamounia
On the other end of the spectrum, La Mamounia is a luxury hammam and spa inside the same-named sumptuous five-star hotel.
La Mamounia, one of the greatest hotels in Marrakech, is steeped in history and makes you feel unique from the minute you step through the doors.
Non-guests are welcome to use the spa and wellness facilities, although reservations are required.
The spa features a huge and exquisite hammam where you may relax and cleanse in the most beautiful setting.
Alternatively, the spa provides a variety of soothing services such as massages, body cleanses, body wraps, and facials.
A Jacuzzi, a swimming pool, and a fitness center are also available.
You may even book a full mini spa to yourself, replete with a private changing room, a treatment room with two tables, a shower, a private Jacuzzi, and an intimate hammam, all surrounded by warm orange and red tones and gorgeous mosaics.
Don't leave without also going to the hair and beauty salon to look and feel your best.
Marrakech Hammam
Within the medina's high walls, you'll discover the charming Hammam de la Rose in the city's historic quarter.
Escape the commotion outside and go to a tranquil haven with a variety of treatments and an attractive hammam.
Warm water will be poured over your body to slough away dead skin and give you a beautiful complexion and good circulation.
Hammam de la Rose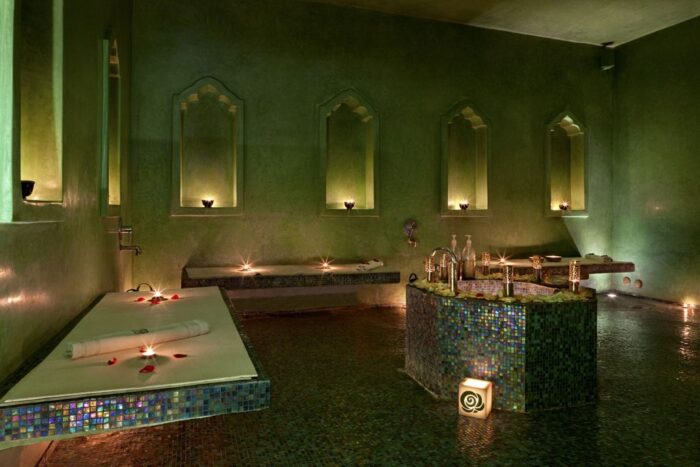 day spa offers a variety of packages, including a basic scrub, a scrub and henna treatment, a scrub with a hair treatment, and a scrub with black soap, clay application, a foot massage, and an argan oil hydration treatment.
There are a variety of massages offered, including foot massages, scalp massages, back massages, stress-relieving massages, Ayurvedic massages, hot stone massages, and massages for pregnant women, as well as facials, manicures, pedicures, waxing, and more.
Namaskar, Le Spa
The award-winning Le Spa Namaskar is located inside the famous Palais Namaskar in the exclusive Palmeraies district, which has garnered several honors.
The spa, which is open to both non-residents and hotel guests, employs natural and organic ingredients in its many services, which include aromatherapy sessions, various massages, cosmetic treatments, and a marble hammam with soothing mood lighting.
The sensory activities were developed utilizing traditional Feng Shui concepts, with the goal of combining energy, balance, and purity for a complete experience that improves overall wellness. There is also a yoga studio and a fitness center on the premises.
Other famous spas and hammams in and near Marrakech include Royal Mansour, Amanjena, the hammam on Road Farnatchi, Heritage Spa, Mythic Oriental Spa, Hammam Rosa Bonheur, and Isis Spa.
Casablanca's Best Hammams and Spas
Casabalanca, Morocco's largest city, the country's economic and industrial center, and made famous by the well-known romantic film of the same name from the 1940s, may be short on tourist attractions, but it certainly has some great spas, and here are some recommendations for the best hammams in Casabalanca!
Casablanca Le Lido Thalasso & Spa Hotel
The four-star Hotel Casablanca Le Lido Thalasso and Spa, located on the coast and adjacent to the magnificent Hassan II Mosque, has stunning calm gardens, a massive outdoor swimming pool, a fitness center, and many excellent touches. Non-residents are welcome in the spa.
Cleanse in the hammam and sauna, relax with a massage, indulge in a facial, or pamper yourself with a manicure or pedicure. Other packages include anti-stress and detox therapy, as well as an onsite hairdresser.
Spa Gaia
Gaia Spa, a day spa in Quartier Palmier, mixes old traditions from throughout the world to provide a variety of calming treatments that are good for the mind, body, and spirit.
Gaia Spa is a popular choice for couples looking for some romantic relaxation. Indulge in a 50-minute hammam treatment, a body scrub with Nepalese tea, a hydration treatment, or an anti-aging facial.
Thai, Singaporean, Oriental, couples, reflexology, head, and back massages are available, as well as pedicures and manicures.
Mr. Hammam Ziani
Hammam Ziani is the place to go in Casablanca for a genuine local hammam experience with contemporary amenities and a unique ambience. Massages, cleanses, and seaweed treatment are among the services offered.
Wang Thai, Sensation Spa, and Esthetique Spa, which also provides medical therapy, are some of the best spas in Casablanca.
Jadida El
El Jadida, a popular Moroccan summer vacation location, is home to a historic Portuguese fortification and intriguing water cisterns, as well as one of Morocco's most prominent resorts.
The five-star Mazagan Beach ; Golf Resort has a blissful spa, complete with a hammam, beauty center, and gym, in addition to a private stretch of beach, an 18-hole golf course, a large pool, a variety of restaurants, a karting track, a casino, boutique stores, a nightclub, and, of course, luxury accommodation.
The spa is only open to those above the age of 16. Relax while taking in the magnificent views of the Atlantic Ocean and stimulating all of your senses with a variety of beauty and wellness treatments.
There are 17 individual treatment rooms available, as well as two double rooms for couples or close friends. Relax both inside and out, let the Jacuzzi waters work their magic, enjoy the mosaic and marble hammam, and be pampered with massages, scrubs, facials, and more.
Oualidia
Oualidia, a bit farther south from El Jadida along the Atlantic coast, also draws a lot of Moroccans throughout the summer.
The La Sultana Spa
The Spa at La Sultana features hammams, Jacuzzis, an indoor and outdoor pool, a sauna, relaxation zones, and al fresco massage huts in a tranquil location on a lovely lagoon with views of neighboring cliffs, marshes, and agricultural area.
Enjoy beauty treatments, facials, and other services as a skilled masseuse kneads away any tensions and pains. The eye-catching stone spa is a visual treat.
Asni
Asni is nestled in the foothills of the High Atlas Mountains, surrounded by towering mountains and yawning valleys. It also offers one of the most luxury spas in Morocco.
Kasbah Tamadot Asounfou Spa
Asounfou Spa in the high-class Kasbah Tamadot, owned by entrepreneur Sir Richard Branson, provides the utmost in pampering and joy.
Due to the very distant location, the majority of clients at the spa are individuals who are staying at the resort.
You may also experience a traditional hammam procedure, which includes a black soap cleanse, scrub, hair wash, and head massage, in addition to a variety of other trademark treatments.
The outdoor infinity-edge pool is ideal for soaking up the rays, and there's also a hot tub in the grounds.
Agadir
Agadir is a sophisticated coastal city that draws many foreign visitors due to its European feel, nightlife, sandy beach, and tourist facilities. There are several spas and hammams where you may relax and unwind.
Massage O
O Massage is a day spa and salon with a gorgeous hammam and a variety of calming massages and cosmetic services. Other options include acupuncture, hypnosis, kinetic therapy, and reflexology.
Slip into a plush robe and relax in the lovely grounds with a drink of mint tea after your treatment.
Agadir Thalassa Sea & Spa Sofitel
Sofitel is a well-known premium worldwide brand, and the Agadir resort lives up to its stellar reputation. A classy atmosphere, stunning art, and a peaceful atmosphere seamlessly blend to put you at rest.
Enjoy the tranquillity of the magnificent grounds, take a plunge in the pool, and relax with a massage.
Villa Blanche Spa
Water plays an important role in Spa Villa Blanche, which combines traditional eastern traditions with western science. There are several treatments and strategies available, all of which are intended to help you feel good.
The ambient lighting throughout the spa will also relax you. Five treatment rooms are available, as well as a double suite with a separate steam room and sauna.
Other amenities include a Jacuzzi and an indoor pool, as well as beauty and health treatments.
If you go to the Musee de l'Argan, you'll discover a hammam as well as several treatments; come prepared if you want to indulge!
Other renowned spas and hammams in Agadir include the Hotel Timoulay and Spa Agadir, the Royal Atlas and Spa, Zen Hammam and Massage, and the five-star Atlantic Palace's Thalassotherapy and Spa center.
Of course, there are plenty additional fantastic spas and hammams in Morocco. Relax at the five-star Sofitel Rabat Jardins Des Roses, Riad Kalaa, and the public Hammam Lalou in Essaouira, and feel fantastic in Fes at The Nausikaa Wellness Centre, Maison Bleue Spa and Hammam, Sahrai Hotel, and Spa Laaroussa at Riad Laaroussa.
Hotel Belle Vue, the Sherazade Centre and Spa, and Riad Yacout are all recommended in Meknes, while the Michlifen spa is a great option in Ifrane. Other options are the Paradis Plage Surf Yoga & Spa Resort at Imi Ouaddar, near Taghazout, and the Dar Ahlam in Ouarzazate.
On your next holiday in Morocco, pamper yourself!