Marrakech to Fes in 3 days tour
Book your trip to Morocco for 3 days, starting in Marrakech and ending in fes. Below is the schedule for your trip.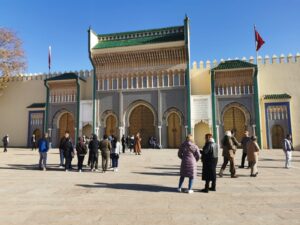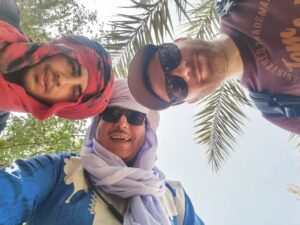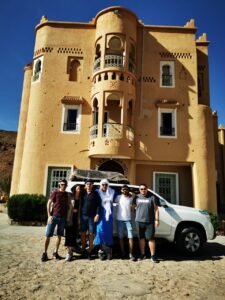 3 days from marrakech to fes, with an itinerary that includes and excludes the following:
Highlights of the Morocco 3 days desert tour from marrakech to Fes as follows:
3 days tour from marrakech to Fes itinerary :
Here is a  itinerary for a 3-day trip from Marrakech to Fes:
Day 1: Marrakech => Ait Ben Haddou => Dades.
Start early from Marrakech and travel across the High Atlas Mountains, stopping at viewpoints and small Berber villages along the way.
Visit the Kasbah Ait Ben Haddou, a UNESCO World Heritage Site and popular filming location.
Continue to the Dades Valley and spend the night in a traditional guesthouse in the Dades Gorge.
Day 2: Dades => Todra Gorge => Erfoud => Merzouga => erg Chebbi.
After breakfast, travel to the Todra Gorge and take a short walk along the river.
Continue to Erfoud, known for its fossil workshops, and then to Merzouga.
Explore the Sahara Desert on camelback during sunset, and then spend the night in a traditional Berber camp in the Erg Chebbi dunes.
Day 3: Erg chebbi => Ziz Valley => Fes.
Wake up early to watch the sunrise over the dunes, and then return to Merzouga by camel.
Continue through the Ziz Valley and the Middle Atlas Mountains to Fes, stopping at scenic viewpoints and small towns along the way.
Arrive in Fes in the late afternoon, where the tour ends.
Note: This itinerary can be adjusted according to your preferences and time constraints.
Of course, this itinerary is just a suggestion, and you can customize it based on your own interests and preferences. Just keep in mind that the roads in Morocco can be winding and mountainous, so it's best to take your time and enjoy the journey. for more informtion contact us.
Marrakech to Fes 3 days tour Reviews:
The Finest Chaouen Vacation
We used this organization to plan a 3 day trip  and it was fantastic! Our guide, Ahmed, had extensive knowledge of each and every site we saw. They also provided a full-day guide service as we wanted to see Fez before the trip began. The trek in the Rif Mountains, the waterfalls outside of Chefchaouen, etc. The whole affair went off without a hitch. Once again, many thanks, Ahmed; it was wonderful to meet someone of your caliber. There is no doubt in my mind that this time we will go to Morocco and have a Sahara desert adventure. As again, I appreciate the excellent service provided by Morocco Expedition.
The greatest city in Morocco is Chefchaouen.
We flew into Fes from Madrid in July after deciding to explore Morocco, and immediately set out in search of a travel agent. When we searched online for first findings, we discovered that Touring The city of Meknes and its attractions may be seen on a two-day tour from Fes to Chefchaouen offered by Morocco Travel. Our tour experience was excellent, so we decided to plan another one. Our guide, Hassan, was very well-versed on the history of Meknes and Morocco. We went to the Akchour waterfalls and walked the Rif Mountains, and he was a great guide the whole time. Despite its brevity, we found ourselves engrossed. We appreciate Hassan's help and will be in touch shortly to hire you as a guide when we return.
Great views and a helpful guide
As a group of seven, we arrived in Morocco around the end of September. It was a huge hassle trying to locate a reliable travel agency. In Morocco Expedtition was located after researching the top firms shown first in the search results. After much deliberation, my mother and I decided to take a 3-day since she was particularly interested in exploring Chefchaouen. Upon our arrival, we were taken aback by the city's stunning architecture and aesthetics. The Volibilus, a peculiar jail, and a door. What's more, Chefchaouen itself was a stunning location. The plaza and mosque, as well as the climb through the Rif Mountains, were well worth the time and effort. To top it all off, before heading to Fes, we were able to unwind and go on a trek to the waterfall of Akchour. The blue pearl is an excellent tourist destination.