Morocco's Top 10 Traditional Cuisine Cooking Classes
Morocco Expedition offers  Traditional Cuisine Cooking Classes
Morocco's Top 10 Traditional Cuisine Cooking Classes
Morocco's Cooking Classes have saturated the tourist sector, providing travelers with a plethora of opportunities to go further into learning how to cook Moroccan traditional food. Morocco's unique history as a confluence of cultures has earned Moroccan cuisine the well-deserved status of North Africa's culinary star. For ages, imperial and commerce influences have left their imprint on Moroccan cuisine. Exotic spices, herbs, and dried fruits have been infused into the delectable flavor of Moroccan meals. Moroccan cuisine relies heavily on spices such as cinnamon, cumin, coriander, paprika, turmeric, saffron, white pepper, red chile, cloves, and sesame.
Moroccan cuisine has also been influenced by Arab, Berber, Moorish, French, Middle Eastern, Mediterranean African, Iberian, and Jewish influences. Moroccan delicacies such as couscous, gently simmered tagine meals, harira soup, bastilla pie, rfissa chicken with lentils, slow-roasted mechoui lamb, and vermicelli seffa were inspired by these civilizations.
Morocco's Top 10 Cooking Classes include these Moroccan specialties. A Moroccan cooking class is a gastronomic excursion that will teach you real Moroccan cuisine from local cooks.
1. Cooking Workshop at La Maison Arabe
This boutique hotel in Marrakech's old medina was the city's first eatery. La Maison Arabe, once owned by Italian Prince Fabrizio Ruspoli, has housed one of Marrakech's pioneering culinary schools since 2001. Since then, it has drawn visitors to the red city to learn the secrets of Moroccan traditional food. The workshops are led by a Dada (traditional Moroccan chef) and held at the property's specialized culinary school, which is equipped with cutting-edge technology. The courses begin with participants learning about spices used in traditional Moroccan cookery around a table. A traditional bread oven is also visited, where the local community sends fresh doughy round shaped portions to be prepared everyday. The training also includes a real bread kneading demonstration. Moroccan cooking classes often feature roasted aubergine, chicken, beef, or lamb tagine, and a Moroccan dessert. Culinary skills like making flowers out of tomato peels can bring out your inner chef. Workshops are often conducted in half-day sessions, from 10:00am to 2:30pm in the mornings and 4:00pm to 7:00pm in the evenings. All lessons are taught in collaboration with a translator who is proficient in Arabic, English, French, and Spanish. 
2. The Amal Center (Targa & Gueliz)
The non-profit, female-run Amal Center functions as a Moroccan restaurant as well as a cookery school. Morning sessions at Amal's onsite cooking facility begin with Moroccan mint tea brewed with fresh herbs from their garden. Following a short introduction, participants are taken on a culinary trip to learn how to prepare a tajine. Tagines are conical-shaped pots that are gently cooked over charcoal and shared with a group of 10 or fewer people. Amal also offers baking workshops in which you can learn how to prepare Moroccan treats like gazelle horns, ghriba, beghrir, and msemmen. Nora Fitzgerald Belahcen, an American, founded the institution in late 2012. She grew aware of the contrast between Morocco and the United States after spending numerous childhood summers in both. Recognizing the obstacles that Moroccan women from underprivileged backgrounds sometimes experience, she set out to aid the community by establishing Amal, a female-only cooking center maintained entirely by women. The Amal Center provides a 6-month training course to local women who are normally labeled unemployed (widows, divorced or single moms, orphans) and teaches them vital job-market skills. Taking a cooking lesson at Amal is an excellent opportunity to support a local charity while learning about traditional Moroccan cuisine. Classes are held daily in the afternoon and are taught by a translator who is proficient in Arabic, French, or English.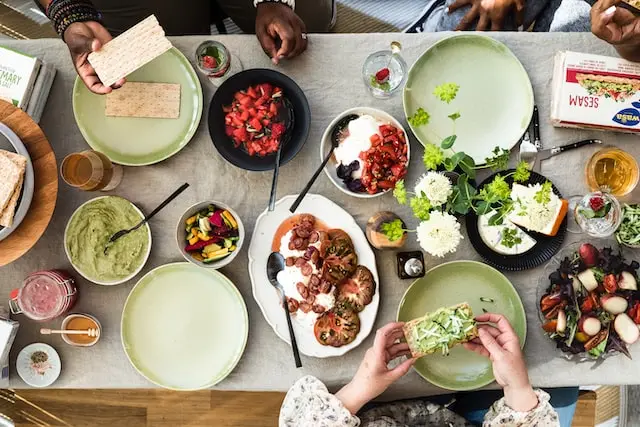 3. Female Chef Leads Lotus Cooking Class
This Moroccan female chef-led cooking lesson starts in the center of Djemaa el Fan square. Participants are led on a culinary tour of the souks and given a guided experience in selecting the vegetables and fruits that will be used to prepare a traditional Moroccan meal. Lotus Chef's workshops take place in a classic Moroccan riad in the heart of the medina. Moroccan culinary experts share anecdotes and cultural customs about the Moroccan kitchen over a pot of steeping hot mint tea. Guests may choose from a Moroccan cuisine that includes Tajine, Couscous, Bastilla, Tanjia, and Sephardic Jewish meals. There are also alternatives for individuals who follow a vegetarian or vegan diet. Lotus Chef is an excellent method for foodies to enjoy a cooking class in the ambience of a Moroccan household.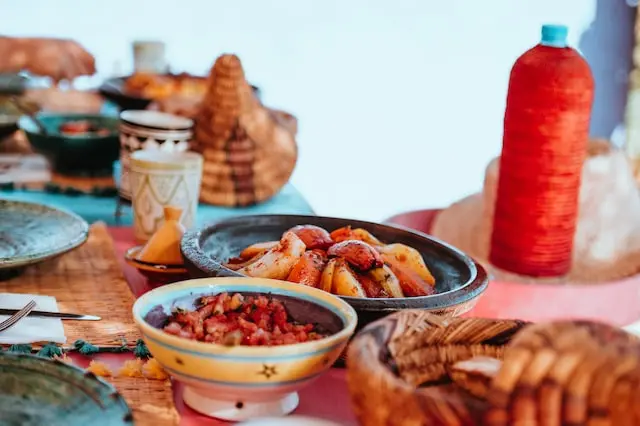 4. Traveling Spoon, a service that connects students with local teachers
Traveling Spoon, founded in 2011 by Aashi Vel and Steph Lawrence, who met at the Haas School of Business, is a pleasant method to learn how to prepare Moroccan food. Their love of cooking motivated them to establish a global network for visitors seeking culinary experiences; they match students with local cooking instructors. The Traveling Spoon community has built a solid reputation in Marrakech and Casablanca over the last eight years. Classes are not held in a single place; rather, instructors are drawn from carefully selected families who donate their private kitchens and recipes. Many Traveling Spoon adventures begin with a visit to a local market with your host. A welcome drink, Moroccan cookies, Moroccan salads, Tagine with lamb and veggies, and oranges with cinnamon or cake for dessert might be on the menu. Menus are subject to vary based on seasonal availability.
During Maria's school break, her culinary instructor Maria related tales of her Moroccan grandmother creating a lamb tagine with cardamom, according to one Traveling Spoon pupil. Maria now accepts visitors for culinary classes, inspired by her grandmother's passion for food. Moroccan history, culture, and food are taught to students at her house. Cooks that teach vegetarian and halal cuisine may be found on request. The classes are taught in Arabic, French, and English.
5. Cafe Clock Cooking School No.
Cafe Clock has become a Moroccan cultural landmark for both tourists and locals. Mike Richardson, a British ex-pat, launched the restaurant for the first time in 2006. Moroccan youth and culture inspired Richardson to build his first coffeehouse in Fes. Cafe Clock serves traditional Moroccan cuisine and also hosts a culinary school, as well as cross-cultural interactions and events. The first Cafe Clock culinary school opens in UNESCO Fes. Classes at the Clock begin with an introduction to Moroccan culture, history, and the ingredients that will be utilized in the four iconic meals that foodies will prepare. Salad, soup, main course, and dessert are on the menu for the culinary lesson. Zalouk- roasted aubergine with spices; Khizou M'shrmel- marinated carrot salad; Shlada d l'barba- beetroot salad; and Taktouka- spicy green pepper salad are among the starting options. Soup options include Harira, a typical robust Moroccan soup, and Bissara, a split pea or wide bean soup with spices, garlic, and olive oil. Main courses include the traditional couscous, tagine, or Bastilla. The Blighat b t'mer – Date and pastry rolls to a nutritious Letshine b l'karfa – orange & walnut salad is a good way to close the cooking class for people with a sweet craving. The refined atmosphere is suitable for families traveling with children.
6. Fes Cooking School and Food Tours
The restaurant is run by a local family that is passionate about cooking and spreading the warmth of real Moroccan hospitality. Cooking and Cultural Tours in Fes are ideal for a more personal culinary experience. The tailored food excursions begin with a visit to the Fes Medina's vegetable and meat souks. This is the greatest spot in town to buy seasonal food. Participants will also learn how to choose market products based on color, shape, and size. Classes are conducted in a tiny, traditional riad and are taught by the family's main chef. There is an appetizer, a main course, and a vegetable dish on the menu. Moroccan briouates, crispy triangles loaded with fresh goat's cheese, fish veggies, harira, a tomato-based Moroccan soup with chickpeas and beef, and Zaalouk fried eggplant and tomato salad are among the starters. The main course consists of a seven vegetable couscous or a tagine with quince.
7. Plan-it-Friday, Visit a local cooking class with your family.
A female-owned, boutique business in Fes that specializes in local events ranging from cooking courses to beauty treatments and cuisine excursions offers this homegrown charming cooking class. The Go-Nearby, Fes cooking class is the ideal way to engage with and be hosted by a Moroccan family while creating cuisine, touring the souks, and baking at the local Farran. Participants will conclude with a supper shared together in true Moroccan manner.
The Fes Go-Local Cooking Class is a well-curated Fassis cooking instruction that includes purchasing at the local souk, creating bread, and bringing the bread to the local farran for baking and preserving lemons. You will prepare seasonal Moroccan salads, Moroccan chermoula (specialty marinade), and a tagine of your choosing. The program also teaches how to make and drink Moroccan mint tea, a ceremonial custom.
8. Moroccan Cooking Workshop at L'Atelier Madada
L'Atelier, located on the outskirts of the Essaouira medina, provides half-day Moroccan cookery classes. The program starts with a guided tour of the spice souk, where a Moroccan chef will reveal the history and secrets of the cuisine of this old 18th-century coastal city. The lesson will begin when you return to the L'Atelier kitchen, and it will be led by a local Souri Dada Chef. Participants prepare a selection of chosen recipes after discussing ingredients and customs. Tchakchouka: prepared salad with peppers; chicken seffa with vermicelli; and Harira soup are examples of menu items. The session concludes with a leisurely sit-down at L'Atelier's farm to table café, where you may eat on the foods you prepared. Cooking classes are available in both English and French.
9. Khadija's Cuisine, Essaouira Cooking Class
Khadija's Cooking Class provides a more personal and superior Essaouira food experience. Khadija provides a hands-on cooking lesson at her house in Essaouira's new town, where foodies may participate in creating a three-course magnificent Moroccan feast of their choosing. Khadija offers a step-by-step individually guided culinary expedition that includes Moroccan salads, pastilla, couscous, tajine, and other specialities. Because the lessons are private, groups of 2-8 people may be readily accommodated. Khadija's home kitchen, which is well-stocked with Moroccan spices, is where all meals are prepared. The variety of recipes available in the cooking class changes everyday and is based on seasonal vegetables, meats, and fruits. Khadija also caters to vegans who wish to prepare meatless Moroccan dishes. On request, a separate pastry lesson is available.
10. Clock Kitchen Cooking Class: Marrakech, Fes, and Chefchaouen.
Cafe Clock Chefchouen's culinary instruction, like its sister kitchens in Marrakech and Fes, starts with a tour of the local market. You will return to the Clock's blue washed cultural center for a drink of hot mint tea after picking the materials for a three-course Moroccan feast. The chef at Cafe Clock will then guide you through the preparation of your choice of appetizers, main courses, and dessert. The Cafe Clock workshop also provides specialist pastry-making sessions and breadmaking lessons for people interested in learning how to prepare bread in a high mountain altitude setting.
Note : Please contact us if you want the costs of our items. Also, if you have any questions or comments, please contact us by email or WhatsApp.